In this uncertain time, we at Waterden Dental Practice are especially and unwaveringly committed to doing everything we can for the safety and well-being of our patients and colleagues.
As the novel coronavirus (COVID-19) affects us all in diverse ways, we are closely monitoring this rapidly evolving situation. We are following guidance from the World Health Organisation (WHO), Public Health England (PHE), Centres for Disease Control and Prevention, as well as our local authorities and government, to minimise the spread and impact of the virus.
As always, we at Waterden Dental Practice care deeply about your safety and are continuing to maintain the highest possible hygiene standards, with all our employees fully aware of the current requirements. To that effect, we have equipped our practice with additional cleaning and sanitizing supplies, and our team is following the prescribed safety protocols of regular handwashing, sanitization of all surfaces and minimising physical contact.
We would like to assure you that none of our staff have travelled to or from any of the affected areas or been in contact with someone with confirmed Coronavirus. Our management team is in constant contact with all employees and is monitoring staff activities daily.
All of our employees have been advised to stay home and seek medical attention if they experience any of the known virus symptoms. They have also been briefed that, if they have contact with anyone affected or experience any symptoms, they are to contact NHS 111 and follow the relevant advice which includes self-isolating for 14 days.
We will be open and transparent with you and all of our clients if any of our staff are confirmed for COVID-19, following the relevant guidance.
Please rest assured that our practice remains safe and hygienic with patient and staff safety is of vital importance for us.
From Monday 7th September, we resumed full dental services. Following recently announced guidance on Thursday 17th December that Guildford will be entering tier 3, we will continue to operate as normal unless advised otherwise. We have been working tirelessly to ensure we are fully equipped and trained to ensure your safety. Here is an example of our clinicians being fit tested to ensure that there is no risk of transmission to you and vice versa.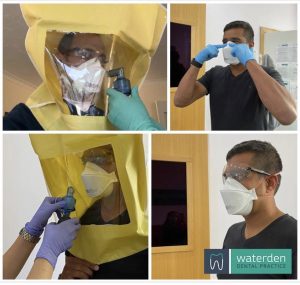 As always, thank you for your continued support and we look forward to seeing you.